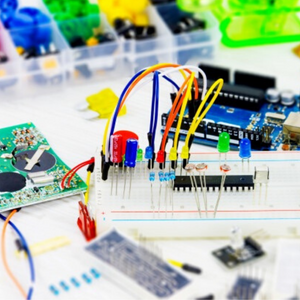 ELECTRONICS - BEGINNER

 100% VIRTUAL COURSE - Hardware NOT Required

Electronics is one of the roots and the center of the operation of many technologies, such as robotics, 3D printing, home automation, as well as part of the automotive industry, among others.
With our four Electronics courses, you will experience the inside components of electronic equipment that we use in our daily lives. Throughout the length of these courses, you will understand how these components work. Our state-of-the-art MakerSteam platform will guide you from the basics of electronics to challenging application projects regarding some of the tech areas mentioned above. 
By taking our Electronics courses, you will learn and dominate the implementation of electronic components in personal projects.
These are the topics covered in the course: 
Voltage
Current
Using a Multimeter
Resistors
Capacitors
Elementary Circuit
Series and Parallel Circuits
Sensors
Potentiometer
Actuators
Passive Buzzer
Microcontroller
Variables
Conditionals
For & While Cycles
PWM
Photoresistor
Temperature Sensor
Tilt Sensor
Movement Sensor
DC Motor
LCD Display
RGB LED