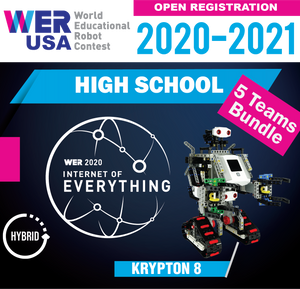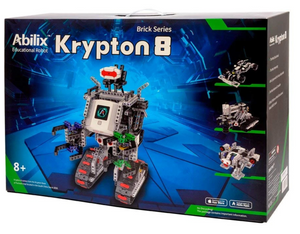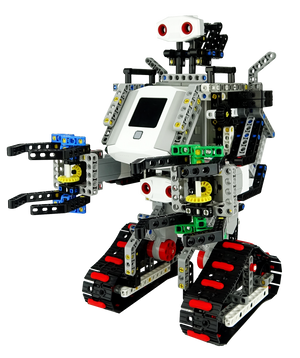 INCLUDES:​
REGISTRATION
- 5 Teams Registration (2-3 participants per team) for the whole WER ROUTE. Includes the virtual qualifying tournaments, USA national finals (for qualifying teams), and the UK International tournament registration (for qualifying teams).  The team's Coach/Teacher doesn't require registration.

​
HARDWARE AND MATERIALS:
- 5 Robotics Kits Krypton 8 that can be reusable for future tournaments and competitions.  Includes 1,550 structural parts, a user-friendly touchscreen Programmable Logic Controller (PLC), 10 actuators, and 33 sensors. Programming Modules: Block-based, Scratch, and Chart.  See the product technical sheet for more details.
- 5 IoT Competition Kit (with more than 400 pcs) and Competition Arena.
TRAINING:
- Students' Training program in the MakerSTEAM web platform. Including Multiple Intelligences Module to identify student's strengths and assign robotics competition roles. 20-hour training program plus assembly and programming projects. It is not necessary for the coach/teacher to be an expert or specialist in the subject. The program is designed to be 100% self-managed and self-paced by students through pre-designed learning sequences. Coaches become mentors and facilitators. 
-Teacher's access to Platform: They will have their own account with a team's management section with all the resources to guide their team's journey through the competition. Teachers will have also access to the training program.  
CURRICULUM:
- Standards-aligned Robotics Curriculum -  2020-2021 School Year Access for 150 students and 10 teachers.
- Access to 115 Learning sequences with a PBL approach and 230 extra challenges (Available in English and Spanish). Self-Managed. Self-Paced. Opportunities for students to write code and cover engineering design standards in real-life applications (Vehicles, Commercial, Industrial, and Bionic Applications). Hands-on activities focused on improving computational thinking skills and promoting mastery of concepts. Includes Multiple Intelligences Module to identify student's strengths and assign robotics competition roles.
- Introduction to Technologies 4.0 course - 10hrs for students and teachers. 
PRIVATE ROBOTICS COMPETITION (in addition to the WER Route):
Possibility of having your own School Private Competition (virtual or on-site). We'll coordinate and organize your own event. Contact us for details.
SUPPORT:
- Support available via chat, email, phone, or videoconferencing. ​   ​
Additional Resources:
               Krypton 8                                           IoT Competition Kit
VISIT WER USA WEBSITE FOR COMPETITION DETAILS, UPDATES, AND TIMELINE