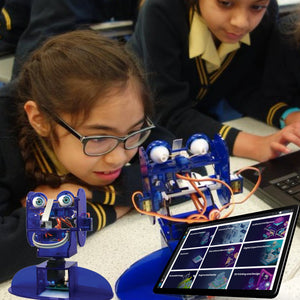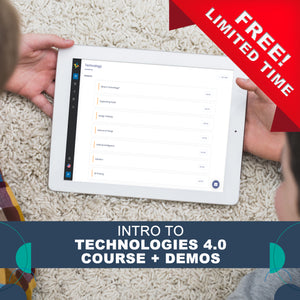 Intermediate Artificial Intelligence Camp
Course Description
The intermediate artificial intelligence course focuses on developing practical projects to solve real-life scenarios. Using the knowledge acquired in the beginner course, you will bring its digital assistant to life using robotics, computer vision systems, natural language processing, and machine learning.
You will have the opportunity to develop your own practical artificial intelligence applications. Using scratch programming, you will provide the digital assistant with a variety of skills. Each skill represents useful knowledge for the robotic head to resemble a smart, capable, and human-like assistant. Some examples of what you will develop are a local weather monitoring station, facial features recognition, a chat channel, and much more!
To get the most out of this course, taking the beginner course is highly recommended. Although this is a 100% virtuOhBot Robotic Head 2.1 to see your programming come to life!
What's included:
16 hours of effective learning, plus unlimited creative time through 8 fully documented, self-paced, self-managed learning sequences. See the course syllabus for more details
Access to our MakerSTEAM web platform
Computer software application (Windows)
Official diploma when completing all three Artificial Intelligence courses (Beginner, Intermediate, and Advanced)
Intro to Technologies 4.0 course + Demos
User manual
Technical support
Ability to connect your programming to hardware with the OhBot Robotic Head 2.1 (SOLD SEPARATELY). See the product technical sheet for more details
In this course, you will:
Get deeper AI programming experience
Solve simple mathematical operations using voice commands
Transform audio commands to mechanical movement
Manage medium-sized Excel databases
Identify and store data concerning facial features
Request and store information from a web service
Develop graphical user interfaces
Feel confident programming AI solutions
Program using scratch to explore AI
Learn more about Educational Robotics 4.0 
Subjects: Science, Math, Programming, STEM, Coding, Robotics.
Educational Standards: NGSS, CCSS, ISTE, STL